Climate march on Durban
No comments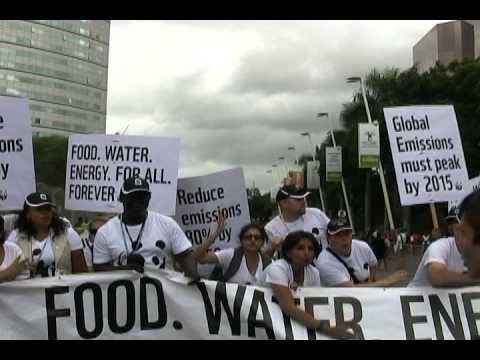 Thousands marched through the streets of Durban, South Africa at the weekend and held a mass meeting in front of the ICC, where the United Nations climate change negotiations are taking place.
Their goal? To press home the urgency for a new climate change deal.
Among the key issues – the Kyoto Protocol, the 1997 international environmental treaty that sets limits on carbon dioxide being pumped into the atmosphere. The treaty ends next year, with no sign as yet that there will be a renewal or extension.
Recent figures show that carbon emissions in the atmosphere are worse than predicted. A UN report showed a six per cent increase in 2009 to 2010 levels. 2010 was said to be the hottest on record. Jamaica and the rest of the Caribbean have seen increasing hurricanes, storm surges and extended drought conditions, all a result of climate change.
The march symbolised unity in the call to governments around the world to take urgent action to prevent what are predicted to be catastrophic consequences due to climate change, including some islands sinking to a watery grave in a few decades.